If you're a coffee lover, then you know how important it is to get a quality coffee machine, and here we look at the 5 Best Coffee Machines to suit your needs. Since the 16th century, coffee has made mornings more pleasant and bearable with the coffee bean producing a wide range of distinct coffee-based drinks.
So, what exactly are coffee machines?
A coffee machine also known as a coffee maker is a cooking machine that's used to brew coffee. Although there are several types of coffee machines that you can choose from, two main types of categories stand out and can be split into espresso and filter. Filter machine, one of the best drip coffee maker, makes coffee by dripping hot water onto the ground coffee then leaving it to brew. On the other hand, espresso machines make use of pressurized boiling water to produce coffee.
Whether your favorite coffee is a flat white or macchiato, cappuccino or espresso, there's definitely a coffee machine that'll make you your desired coffee drink. Regardless of what you are looking for, herein you will find a review of the best coffee machines that have not only been tested by us but also available for purchase right now.
Choosing the Best Coffee Machine for You
When shopping for a coffee machine, choosing to buy a pod or capsule machine, a manual espresso coffee maker or a filter machine are all dependent on your needs and budget.
Here's a list of the four key types of coffee makers that are need specific.
The Filter Coffee Maker
If you always want to have coffee brewing around your home or office 24/7, that's simple and plain or need to make enough coffee for a large group of people at once; a filter coffee maker is an excellent choice. Although some types of filter machines come with integrated grinders, in most cases you'll need to make use of ground coffee. This is one of the best coffee makers when all you need is to make is a simple black cup of coffee that's unfussy.
Bean-to-cup Machines
If your interest lies in using coffee beans to brew your coffee, then consider getting a bean-to-cup machine. It works by grinding the beans and pouring coffee automatically. All you need to do is put the coffee beans and water into the machine then press a button and have your coffee shot in a matter of minutes. Furthermore, there's no cleaning that's required between coffee shots. If you're looking for a home coffee machine that's simple and hassle-free, then consider getting a bean-to-cup coffee machine.
Manual Espresso Machine
If you love your coffee nicely done and can't settle for anything less, get yourself a manual espresso machine. With this, you have the flexibility to produce anything from cappuccino to espresso to ristretto. The manual espresso is a commonly used coffee machine in most coffee shops. However, you'll have to manually do everything when it comes to this coffee machine. That involves grinding and adding the coffee, steaming the milk and repeating the same manual process for each cup.
Capsule or Pod Machines
The capsule machine is among the best coffee makers you can buy. Why? Because you need no coffee knowledge in order to use it, it's simple and has plenty of varieties you can choose from. Each capsule or pod has an exact coffee amount, and you can purchase the one with the flavor and strength that suits your preference. Although you get no mess and have a hassle-free coffee making experience, each capsule or pod is quite expensive.
Factors to Consider When Picking a Coffee Machine
Here are a few factors to consider when choosing your preferred coffee machine.
Number of Cups
How many cups would you want your coffee machine to brew in any given round of production? If you have a big family or like having visitors around, getting a coffee machine that can make substantial amounts of coffee at a go is ideal. On the other hand, if you live by yourself, getting a single serving machine or just a machine that makes a few cups is suitable.
Time
As mentioned, when it comes to coffee brewing, some machines require little or no time whereas there are those where brewing the coffee takes time. If you always wake up late and need ready to go coffee, buying a coffee maker that's programmable is suitable. You will always wake up to the smell of freshly brewed coffee. It's therefore important to consider the amount of time you'll need when brewing coffee. If you have all the time, getting a machine that requires a bit of process will do just fine for you. However, if you're always on the move or have no time to follow a complex routine to get your coffee, then getting a programmable coffee machine will do you justice.
Brew Strength
Coffee makers can be limiting in terms of how you brew your coffee while others let you customize your cup of coffee with the brew strength control. Determining the brew strength of your coffee machine is integral to your happiness. After all, who wants to continuously fuss about how their coffee turned out? If you are detailed about your cup of coffee, choose a model that will enable you to control the strength of the brew.
Price
All the different coffee makers have their own price. This is based on a range of factors that have been determined by the manufacturer so at to attract buyers. It's easy to get excited by a nice coffee machine and end up spending more. Set a budget then settle for the type of coffee maker you need. With a budget in mind, you'll either be forced to start saving for one if you hadn't already or not overspend.
5 Best Coffee Machines
Below is our review of the best coffee machine you can buy in the market right now.
Cuisinart DCC-3200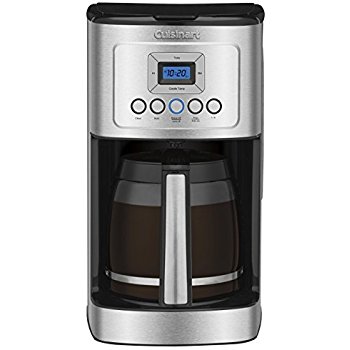 The Cuisinart DCC 3200 is one of the best coffee makers from Cuisinart. Designed with a state of the art technology that's meant to ensure you have hot coffee throughout without the need to sacrifice your flavor or quality. The brew strength control feature enables you to choose between the bold and regular flavors. The Cuisinart DCC 3200 is perfect if you'd like to personalize the taste of your coffee.  What's more, you can programme this coffee machine for 24 hours. That means waking up to a ready coffee. Moreover, it has a self-cleaning feature meaning much won't be needed from you in terms of cleaning thus saving you time. It also has an option for the automatic shut off.
Latest prices here for Cuisinart DCC 3200  
Black + Decker Brew 'n Go Personal Coffee Machine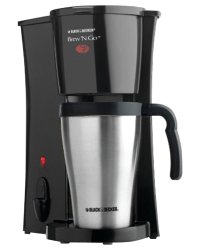 Remember the number of times that you've needed to have your coffee on the go? The Back + Decker is suitable for this since it comes together with a 15-ounce stainless mug. As a single serve coffee machine, you'll get your coffee ready on the mug. The integrated permanent filter saves you money that you would have rather spent on buying paper disposables. The automatic shut off makes it a good home coffee machine since it automatically shuts off after brewing thus avoiding spills. Its small design makes it ideal for those with limited living space.
Latest price for Black + Decker Brew 'n Go Personal Coffee Machine 
Hamilton Beach 12-Cup Coffee Maker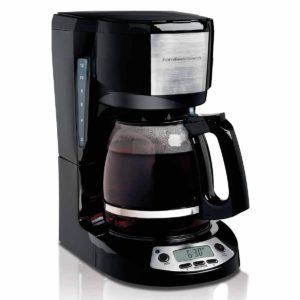 Another great single serve coffee maker is the Hamilton Beach 12-Cup Coffee Maker. This product dispenses one cup of coffee at a time making it ideal for those living by themselves and ideal for those looking for the best drip coffee maker. Its brewing system is enclosed and has an internal heater that keeps the coffee fresh and hot for approximately four hours with the same fresh-brewed flavor. To brew your coffee, you'll need to press the dispense bar button and have a ready coffee before you walk out of the door.
Latest price for Hamilton Beach 12-Cup Coffee Maker
GRB Velocity 10-Cup Home Coffee by BUNN
If you have a huge family or like to entertain friends or family, this is one of the best home coffee machines. Why? The BUNN GRB Velocity 10-Cup brews about four to ten cups of coffee at a go. And, it's quite fast as your coffee will be ready in just three minutes. The machine has an internal hot water feature that's always on standby to make coffee. The carafe that's drip-free is suitable as it prevents unnecessary spillage. The spray head showers are multi-stream spreading water evenly on the coffee grounds. The filter that's large and flat at the bottom boosts the coffee's flavor. Besides, it comes with a 3-year warranty hence you can be guaranteed of quality and reliability.
Latest price for GRB Velocity 10-Cup Home Coffee by BUNN
Mr. Coffee 4-Cup Coffee Machine
This product has an on/off light indicator that makes you aware of whether your machine is off or on. The filter baskets have been designed in such a way that it's easy to remove it for cleaning and refilling. You can pour yourself some coffee as you continue brewing more. This is made possible by the brewing, pause 'n serve feature. The dual water window shows you the exact amount of coffee left in the reservoir for precise filling. The warming plate is stain-resistant hence easy to clean, and it stays stain-free.
Latest price for Mr. Coffee 4-Cup Coffee Machine
For coffee lovers, here are the 5 Best Coffee Machines to suit your needs.