Ah Cacao Chocolate Cafe, Playa Del Carmen
Once a single small cafe Ah Cacao has expanded it's reach to 3 locations – rapidly multiplying with the growth of the city itself. Ah Cacao is a good representation of the city it's located in – it's modern, trendy and more expensive than lesser known counterparts. It's also the place you want to be.   Stop by any of it's locations (all are situated on the main tourist strip, 5th ave) any time of the day and you'll be sure to find a diverse mix of people and if you're lucky a place to sit. They offer free wifi (albeit fairly slow) to customers so it's common for locals and tourists alike to be seen typing away on their laptops while sipping something tasty. The atmosphere is friendly and the workers always have a smile on their faces despite almost always being crowded. It's the perfect spot to take a break from shopping and meet other people. With all of their cafes being located on the corners of busy 5th Ave it's also a wonderful place to sit and people watch.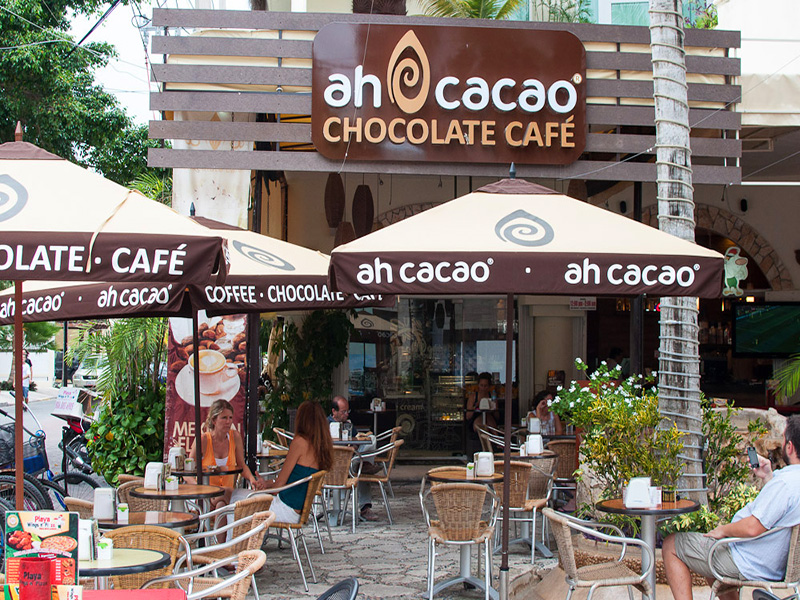 Ah Cacao doesn't just offer ordinary coffee – a large part of their menu is dedicated to natural chocolate products and drinks, including traditional Mayan recipes. There's something on the menu for everyone, hot/cold, sweet/bitter – there's also delightful brownies and chocolate bars you can order to go. Their products are made on a local plantation and they've put in place conversation efforts to help reduce their impact on nature. Much of Mexico has yet to embrace going 'green' at all so it's a welcome diversion from the norm to see them making that effort. Thanks to James of Escaping Abroad for sharing this Best Little Coffee Shop with us.