Ever wondered about the History of Irish Coffee, and How to Make Irish Coffee properly? We share this secret with you.
Where the History of Irish Coffee started.
Irish Coffee was invented at Foynes, a small town in the West of Ireland. Foynes was an airbase near Limerick and the main airport for the Flying Boats between America and Europe. By 1940, the airport was a very busy place, with some very important people arriving there. Because the weather on the West Coast of Ireland can be very temperamental, many passengers had to stay overnight.
In 1942 a new restaurant opened, to cater for the VIP's and to make their stay a pleasant and hospitable occasion.

Joe Sheridan and Irish Coffee
A young Irish Chef named Joe Sheridan was in charge of the restaurant and catering for the people who were forced to stay the night. In 1942, a flight left Foynes for Newfoundland headed for New York. The flight was turned back due to bad weather, and Joe Sheridan had to tend to the needs of the passengers in this very old airport.
He decided to prepare something special for the passengers and to warm them up. He brewed a dark, rich coffee, added in some Irish whiskey, a little brown sugar and floated freshly whipped cream on top of each cup.
The story goes that there was a hushed silence as people drank this brew for the first time. "Hey Buddy," said a surprised American passenger, "is this Brazilian coffee?" "No," said Joe, "that's Irish Coffee."

Irish Coffee goes to San Francisco
People loved to coffee, and Joe Sheridan kept it as a staple on the menu. Irish Coffee may never have become an international success, except that travel writer Stanton Delaplane, took the recipe back to back to Jack Koeppler, a bartender at the Buena Vista Hotel in San Francisco.
They did not have the success however that the Irishman did as the cream kept sinking. Joe Koeppler was persistent however and traveled to Ireland to learn to make it correctly, and now it is an institution in San Francisco, and all over the world.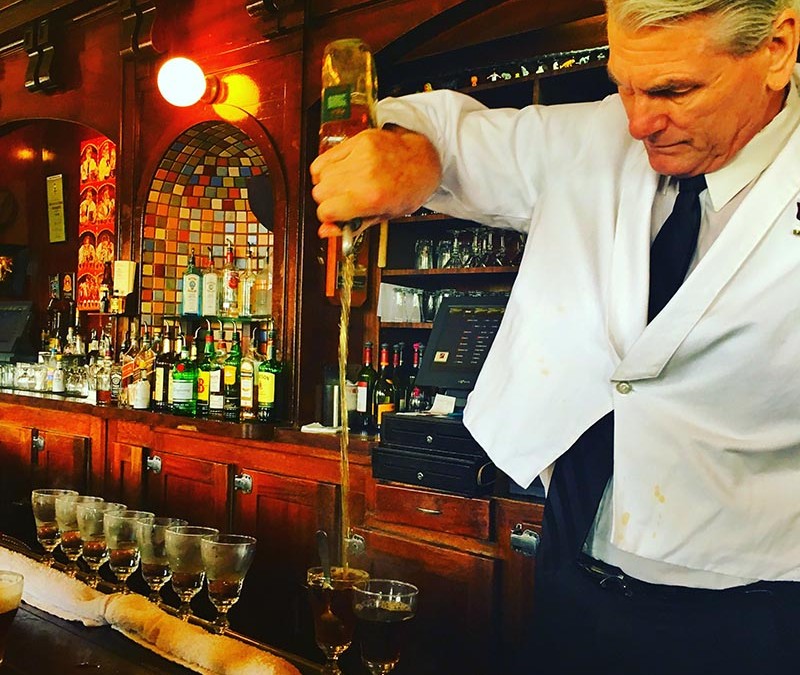 Irish Coffee Spreads to other areas
By 1945 Foynes Airport closed to make way for land planes. A new airport was opened on the other side of the Shannon Estuary, called Shannon International Airport. Joe Sheridan moved to this airport with him. He worked there until 1952 when the Buena Vista Cafe offered him a position.
Joe is still fondly remembered in Shannon, and the story of Irish Coffee is commemorated in the Foynes Flying Boat Museum.
How to make the perfect Irish coffee


Ingredients:
Cream – Rich as an Irish Brogue
Coffee – Strong as a Friendly Hand
Sugar – Sweet as the tongue of a Rogue
Whiskey – Smooth as the Wit of the Land.
Method
Pre-heat a clear stemmed glass with very hot water. Empty the water, and add 2 teaspoons of brown sugar. Now add some freshly brewed rich coffee from an excellent espresso machine, and stir. As soon as the sugar is melted, add a generous measure of Irish Whiskey (about 2.5cl). Stir again, then wait for the brew to still. Now take a hot teaspoon and pour gently whipped fresh cream slowly over the back of the spoon. The cream should be "half whipped" i.e. not too stiff and not too liquid. A perfect Irish Coffee should look pretty much like that other famous Irish drink – Guinness!