Jellyfish Restaurant Manly, Australia
How times have changed when you see children sitting at a café in their school uniforms at 8 am and having their breakfast.
This is what I first noticed at Jellyfish Café at Manly, the perennially popular beachside suburb of Sydney. These kids were engrossed in their meals as we looked around to see what everyone was eating. The food looked good.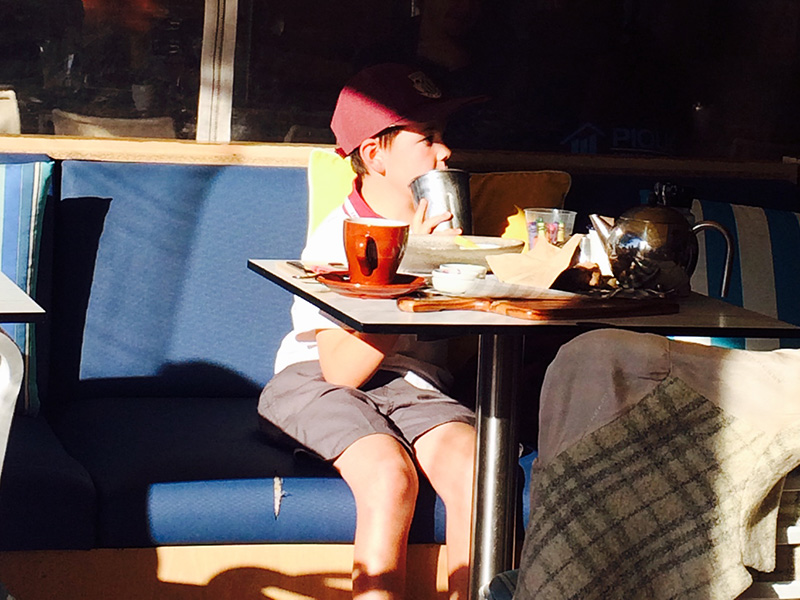 The juices that the children and adults were drinking were all of the varied colors, and we could hear and see, fresh juice being made to order. I have a thing for ginger, so it wasn't hard to have a look at the seasonal fruit on display and to make up my own concoction.
Jellyfish Café is in a prime location directly opposite the beach at North Steyne. There are three main sections to Manley Beach and, from north to south, they are Queenscliff, North Steyne, and South Steyne. Jellyfish is opposite the prime real estate middle section.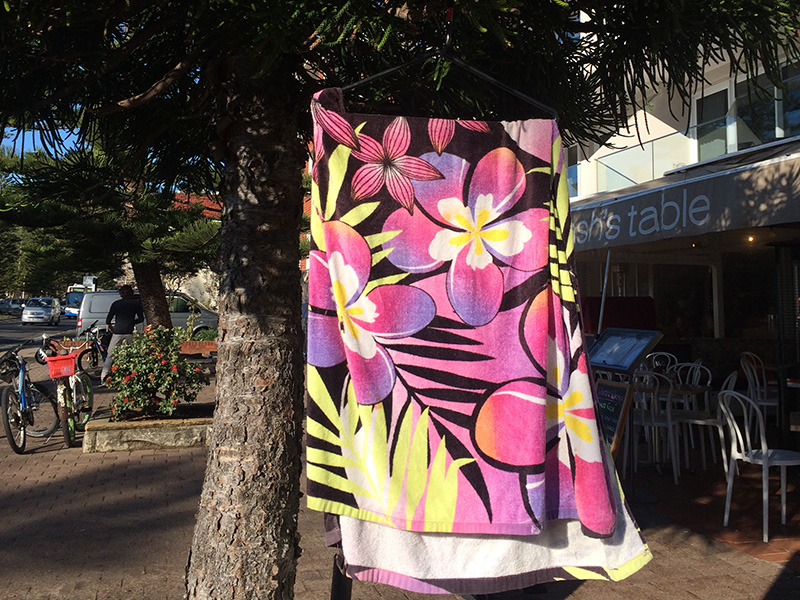 How to get to Jellyfish Restaurant Manly
Manly is one of the most popular destinations for all visitors to Sydney. Catching the Manly Ferry from Circular Quay to Manly is de riguer. Catch the ferry from Circular Quay, Wharf 3, where you can purchase the very inexpensive tickets for this 30 minute trip to Manly Cove.
There is a clever design at Jellyfish with a massive mirror across the back wall, so the beach comes into the café. There is a very long bench seat inside with tables, as well as separate tables. We were a party of four, and as it was a crisp winter's day in Sydney, with the mercury only hitting 16degrees Celsius, we sat inside where the sun shone onto us. Yes, we Australians find this to be a cool day.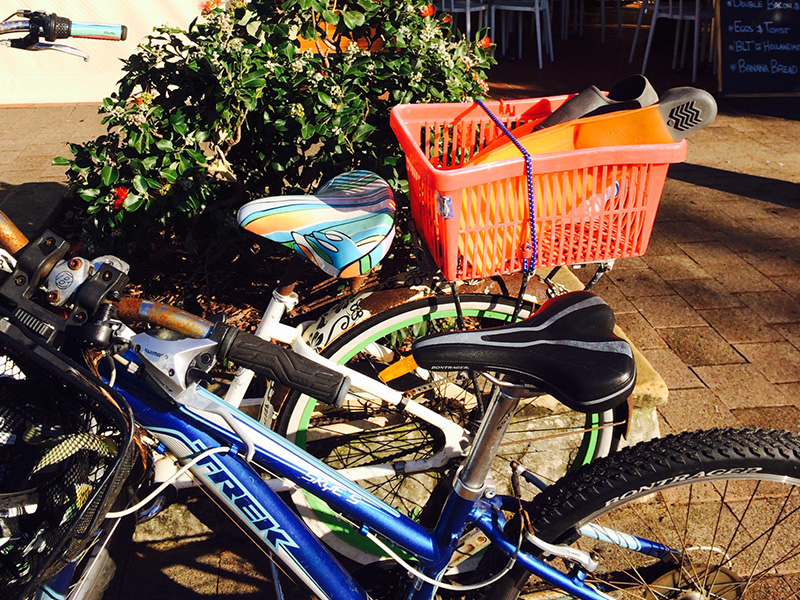 This café is a local favourite so expect to see surfboards, bikes, towels and dogs all along the front of the cafe.  It is obvious that Jellyfish have a loyal clientele because everyone seemed to know everyone else. The menu for breakfast was extensive and varied and quite amusing. After a detailed description of a meal, there were little quips like "why not add an egg to that" or "why not add some bacon to that".
What we ate at Jellyfish Restaurant Manly
I went with mushrooms, poached eggs, asparagus and pesto sauce, where I had a choice of some breads.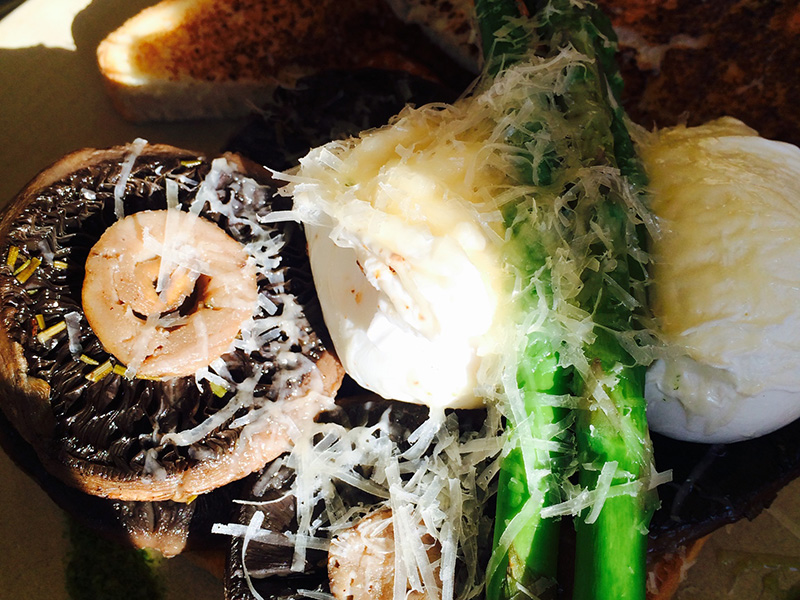 Two of the others in our party went for a simple banana bread, but there was nothing straightforward about the pistachio laden banana bread and the potted yoghurt and fruit that came with it. Gordon went for the simple omelette and the photo shows there was nothing simple about it.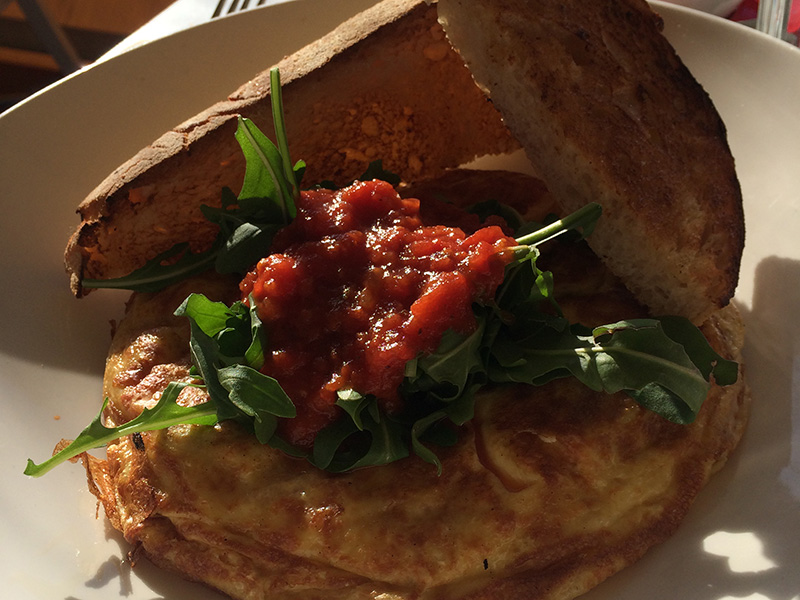 We were bale to see some of the dinner menus and will definitely be going back to try it.
Verdict: really enjoyable meal, excellent service and a return visit for sure.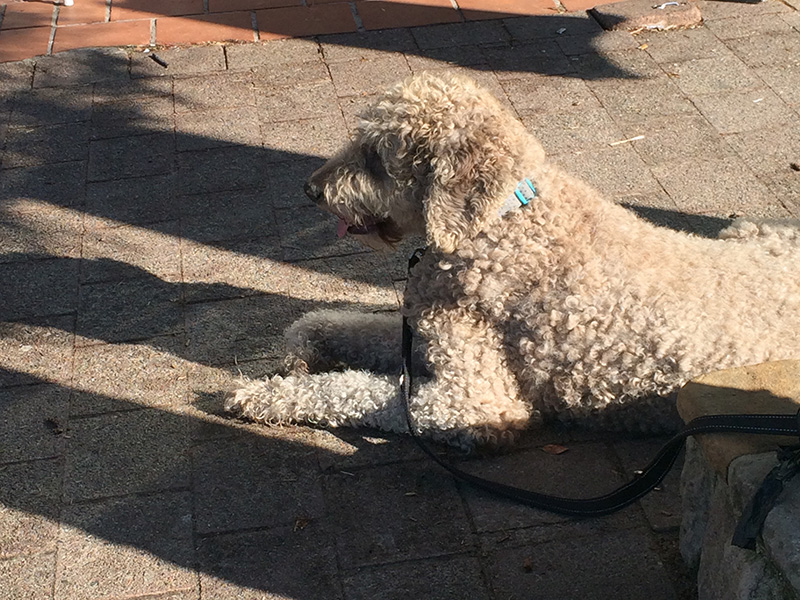 Jellyfish Restaurant Manly
93-95 North Steyne, Manly NSW 2095
Phone:(02) 9977 4555